Transcendental Concord Library Edition: $4500.00
Available exclusively through Radius Books. Contact: orders@radiusbooks.org
This limited edition portfolio includes eighteen photographs from Transcendental Concord signed, titled, and numbered by the artist, and a signed copy of the book. The photographs were printed on Hahnemühle FineArt Photo Rag Pearl paper at Flat Space Studio. The image size is 11x14 inches and the paper size is 13x16 inches. The prints and book are housed in a custom clamshell portfolio box made at Bella Forte Designs, Santa Fe, New Mexico.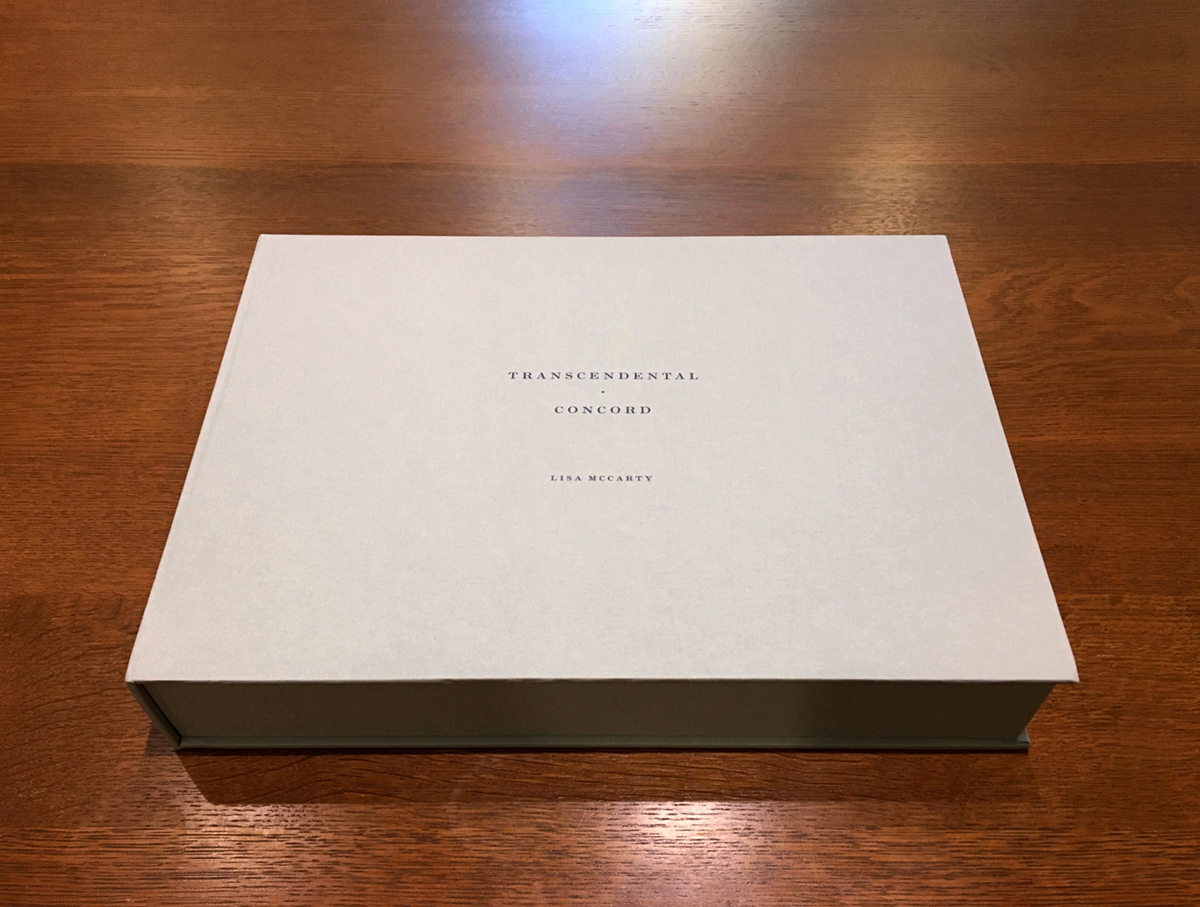 Collections
The Beinecke Rare Book & Manuscript Library at Yale University, New Haven, CT
National Gallery of Art Library, Washington, D.C.
McEvoy Family Collection, San Francisco, CA
The Thoreau Institute, Concord MA
Image Captions:
1) Page from Nature by Ralph Waldo Emerson
2) Window Inscription by Nathaniel & Sophia Hawthorne, The Old Manse
3) Window into the Concord School of Philosophy, Orchard House
4) Fruitlands Farmhouse, Harvard, Massachusetts
5) Page from Nathaniel Hawthorne's American Notebooks
6) Walden Pond, Autumn
7) Henry David Thoreau's Grave, Sleepy Hollow Cemetery
8) Portraits of Henry David Thoreau & Ralph Waldo Emerson, Orchard House
9) Page from Walden; or, Life in the Woods by Henry David Thoreau
10) Walden Pond, Winter
11) Frost, The Old Manse
12) Louisa May Alcott's Desk, Orchard House
13) Page from The Journals of Louisa May Alcott
14) Walden Pond, Spring
15) Henry David Thoreau's Desk, From the Collection of the Concord Museum
16) Emerson-Thoreau Amble
17) Page from Nature by Ralph Waldo Emerson
18) Pond Path, Walden Wood
Radius Books is a 501(c)3 non-profit; Your support of Transcendental Concord contributes to the production of the book.